CASE DESCRIPTION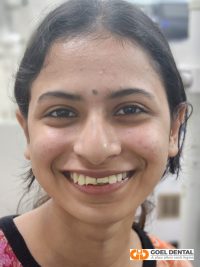 This young college lady presents with history of fall and breaking her front upper two incisors few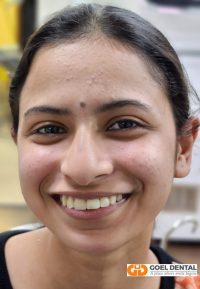 months back. She got composite veneers from some clinic but she never liked them. Because of proclination and a broad smile she wanted something as natural as possible. She was counselled for ceramic veneers but that seemed out of budget for her and therefore she opted for CAD/CAM composite veneers. Her front upper tooth were prepared by removing minimal amount of tooth structure and a digital impression was taken with CEREC omnicam scanner. The impression was utilised for designing the veneers digitally and the proposal was shown to the patient for her approval. Two GC Cerasmart blocks of shade A1 with High translucency were used to mill two veneers. Veneers were further hand glazed and polished. Few yellow spots were added to blend them with remaining natural teeth. The entire case was finished in 1 hour.
Introduction
Veneers is the most searched dental treatment on Google by people seeking cosmetic dental treatment. It is also known by various names likes laminates, shells, lumineer, teeth cover and so on. These are thin shell like materials that are stuck to the tooth surface that is under the treatment. It covers the cosmetic flaws of tooth be it the color, shape, stains, spots, rough edge or repair fractured teeth.
The cover image is of a girl with front upper two CAD/CAM composite Veneers designed by Dr Shikha Goel.
What are CAD/CAM composite veneers
CAD / CAM composite veneers are different from ceramic veneer and can be considered one level below ceramic veneers but they cost much less than a ceramic veneer. However a perfectly executed composite veneer cannot be distinguished from a natural tooth.
These kind of veneer can only be fabricated by dentists using state of art CAD / CAM equipment in their offices. The material used for fabricating these kind of veneers is a nano ceramic composite material that is available in the form of a block, this block is then processed by the milling machine to form a veneer. These blocks are highly standardised and they can only be processed by specialised equipment to fabricate a veneer.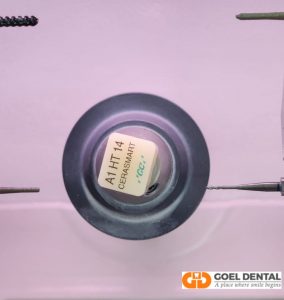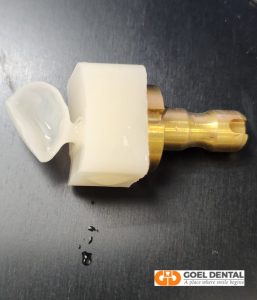 How much time it takes for getting these Veneers
One such veneer can be prepared in 15 minutes. Entire procedure in a patient who may be requiring 6-8 veneers can be completed in 3-4 hours. Entire procedure is painless and the patient can see the actual process happening in front of him.
What shades are available for CAD/CAM composite Veneers
As compared to a routine composite veneers, all teeth shades are possible with a CAD/CAM composite veneers as the blocks for fabricating them are available in all the shades of our natural teeth. Further CAD/CAM equipment makes it possible to digitally measure the shade of your existing natural teeth. Veneers can also be subjected to various characterisations like adding stain and spots on its surface to further mimic natural teeth.
What are advantages of  CAD /CAM composite Veneers
Aesthetics of the veneers are superior compared to a manual composite veneer.
They are thin compared to a manual composite veneer, thus preserving more tooth structure.
Takes less than 15 mins for each veneer.
More shades are available so better color matching.
Picks up less color and stain from food compared to manual composite veneer.
They can be repaired in mouth incase they chip.
They look more natural because of CAD/CAM technology.
What are disadvantages of CAD / CAM composite veneers
There strength is less compared to ceramic veneers.
They tend to dull with passing years but they can be polished in mouth itself.
Cost of CAD / CAM composite veneers in Delhi
CAD/CAM composite veneers are not an option provided by every dental clinic. This facility is available with only a few dental clinics across India.  Goel Dental has the facility of providing these veneers in single sitting and they may cost you around 8000 per tooth with one year no question asked replacement warrant